November 2023 #MFGDay2023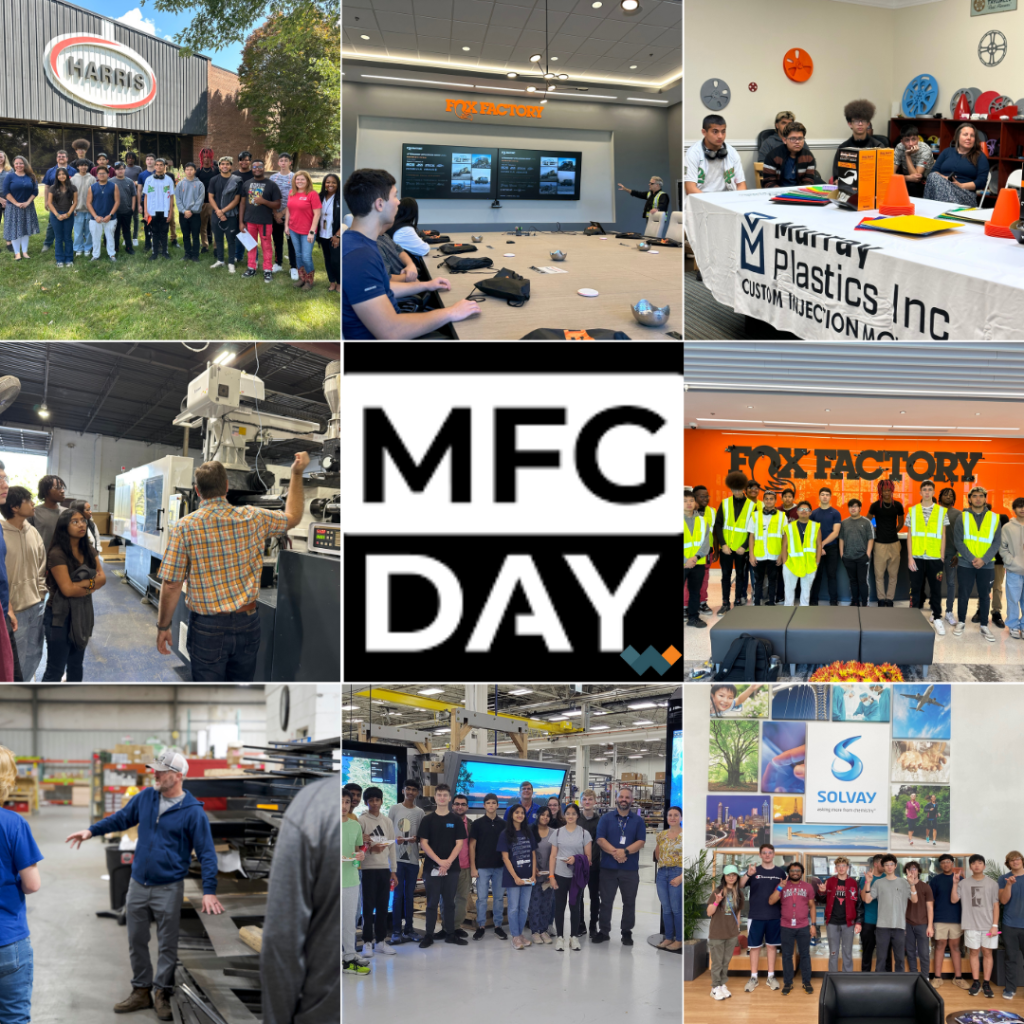 On October 5, 2023, Georgia Mountains Works celebrated National Manufacturing Day, dedicated to fostering awareness of careers in advanced manufacturing and preparing the future workforce. Throughout the Georgia Mountains region, 20 manufacturing employers partnered with education professionals to organize tours during the month, involving more than 440 students from local school systems.
Manufacturing is the #1 employment sector, employs the greatest number of people, in the Georgia Mountains Region with the average salary of over $55,000 per year. The region's high schools offer career pathways in Drafting & Design, Electrical, Heavy Equipment, Logistics, Machine Operations, Manufacturing, Mechatronics, Metal Fabrication, Robotics, Technical Systems, Welding, and Engineering & Technology all of which can lead to careers in manufacturing.
Manufacturers Toured:
Coca Cola Bottling Plant – Gainesville, GA – Bottling
Danley – Gainesville, GA – Audio Systems
*Fox Factory – Gainesville, GA – Performance Defining Systems
GAF Commercial Roofing – Cumming, GA – Roofing Materials
Haering Precision – Lavonia, GA – Automotive Precision Parts
Hansgrohe – Alpharetta, GA – Plumbing Material
*Harris Products – Gainesville, GA – Gas Apparatuses
Kubota Manufacturing of America – Gainesville, GA – Tractors and RTV's
LaserCraft Technologies – Gainesville, GA – Metal Fabricator
LG-MRI – Alpharetta, GA – Outdoor Digital Displays
*Murray Plastics – Gainesville, GA – Plastics
Orbital Energy – Gainesville, GA – Machine Shop
Performance Food Group – Oakwood, GA – Food Distribution
Panduit – Cumming, GA – Wiring
*Panel Built – Blairsville, GA – Portable Building
Siemens – Alpharetta, GA – Automotive
*Solvay Specialty Polymers – Alpharetta, GA – Polymers
Specialty Appliances – Cumming, GA – Orthodontic Laboratory
Swagelok – Alpharetta, GA – Fluid Systems
ZF Industries – Gainesville, GA – Automotive and Industrial
*Pictured
Georgia Mountains Region:
MFG $26.75 Average Hourly Wage (1Q23)
2.8% Unemployment (Sept 2023)
# # #
WorkSource Georgia Mountains and Workforce Strategies Group, LLC, facilitate the Manufacturing (MFG) Sector Strategy, Georgia Mountain Works, to collaborate with area stakeholders to align education and workforce training programs with the needs of manufacturing businesses. WSGM, under Georgia Mountains Regional Commission, administers the federal Workforce Innovation and Opportunity Act funds which encourages sector strategies and partnerships.
WorkSource Georgia Mountains Region 2 includes the following counties: Banks, Dawson, Franklin, Forsyth, Habersham, Hall, Hart, Lumpkin, Rabun, Stephens, Towns, Union, and White.