December 2019 – Funding Secured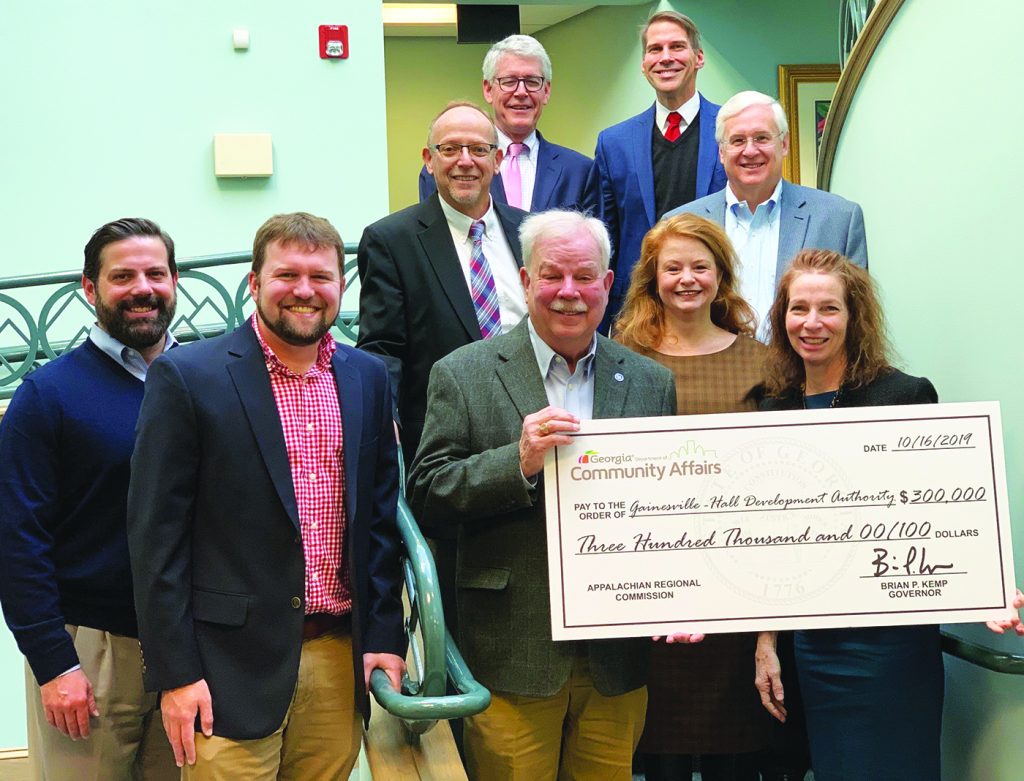 Funding Secured for Work Based Learning Initiative
December 23, 2019 – The Gainesville and Hall County Development Authority (GHCDA) was presented a check from the Appalachian Regional Commission to fund the Apprenticeship 101 program, a new initiative developed by the Greater Hall Chamber's Workforce Development Task Force and Lanier Technical College.
Annaka Woodruff, Georgia Department of Community Affairs, stated "The Appalachian Regional Commission and the State of Georgia, under the direction of Governor Brian Kemp, are committed to empowering the citizens of Appalachia. This project touches the lives of employees and their families and can have a ripple effect across the economy of Hall County and beyond."
Apprenticeship 101 supports small manufacturers in creating a skilled and competitive workforce. Through paid apprenticeships, the program will address the increasing skills gap and grow a broader regional workforce. Shelley Davis, former Chamber Vice President of Existing Industry, has formed a new company with Greg Vitek, former president of IMS Gear Georgia. Workforce Strategies Group LLC will spearhead this effort as well as collaborate with students, educational professionals, communities and employers to realize a skilled workforce in the 13-county Northeast Georgia region. Career paths, technical dual enrollments, and Work Based Learning coupled with paid apprenticeships lead to high demand career opportunities.
"Job Training empowers people to realize their dreams and improve lives, said Heather Feldman, Executive Director, Georgia Mountains Regional Commission. "The apprenticeship model through this project will be highly effective for cultivating a strong workforce in Hall County and the surrounding region."
Through the Appalachian Regional Commission grant, two-year apprenticeships are made available in Machining and Industrial Maintenance at small manufacturers in Hall County. Currently, Barbe America, Georgia Poultry Lab Network, M&M Welding & Fabrication, Mencom, Murray Plastics and Prince Industries are participating. There are eight more apprenticeships starting in 2020. Each apprentice is employed full-time while completing an on-the-job training program and attending Lanier Technical College. It is estimated that apprentices may increase their income by as much as 20% through apprenticeships.
Philip Wilheit, Chairman of the Gainesville-Hall County Development Authority, said, "Developing the next generation of skilled workforce will continue to be a top community priority for many years to come. The Authority was pleased to facilitate this grant for the Apprenticeship 101 program to help smaller businesses develop apprenticeships in partnership with Lanier Technical College."
Apprenticeship 101 is a collaboration of the Gainesville and Hall County Development Authority, the Greater Hall Chamber of Commerce, Georgia Mountains Regional Commission, WorkSource Georgia Mountains, Lanier Technical College, US Department of Labor, Georgia Department of Community Affairs and the Appalachian Regional Commission.
Greater Hall Chamber of Commerce December 23, 2019 Press Release