Apprenticeship Reaps Rewards
Hall County manufacturers received $15,000 each for helping to build our local workforce.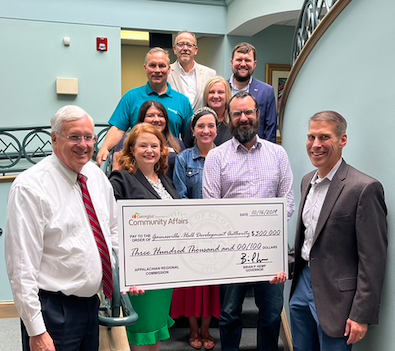 On June 20, the Gainesville-Hall Development Authority awarded $15,000 to each company for their participation in the Apprenticeship Model (APP101). ElringKlinger, IMS Gear and Voyant Beauty are the most recent recipients of this apprenticeship reward. Each company has an existing employee that accepted the challenge of a 2-year Apprenticeships whereby the apprentice works full time with structured on-the-job training and while attending related technical training at Lanier Technical College. Upon completion these apprentices are promoted, are compensated for their increased value to the company, and receive US Department of Labor certification. The ARC grant, awarded through the Development Authority, applies to Industrial Maintenance, Machinist, and Quality Technician apprenticeships.
"We have seen the benefits of putting our employees through these apprenticeship programs, and with this funding we are grateful that we can start more," said Tobias Martin, IMS Gear. "There is always the possibility that the people we put our efforts into may end up leaving us. At the end of the day though, we believe that if we show our employees we care about their growth within our company the idea of leaving won't cross their minds."
The Appalachian Regional Commission granted the Development Authority $300,000 in total to support local small and medium sized manufacturers investing in workforce development through apprenticeship. Apprenticeships are beneficial to the apprentice, the company, and the economy.
Pictured (front to back, left to right): ● Tim McDonald, President, Lanier Technical College ● Tim Evans, VP Economic Development, Greater Hall Chamber of Commerce ● Shelley Logan, Business Partner, Workforce Strategies Group LLC ● Tobias Martin, Managing Director, IMS Gear ● Whitney Blair, Director, WorkSource Georgia Mountains ● Nikki Chandler, VP Existing Industry, Greater Hall Chamber of Commerce ● Hank Deveikis, HR Manager, Voyant Beauty ● Kristie Pilgrim, Quality, EHS & Workforce Development Coordinator, IMS Gear ● Greg Vitek, Business Partner, Workforce Strategies Group LLC ● Patrick Larson, Economic Development Director, Georgia Mountains Regional Commission ● ElringKlinger (not pictured).
###
#youaskedwedelivered
WorkSource Georgia Mountains, under the Georgia Mountains Regional Commission, administers the federal WIOA funds which encourages sector strategies and partnerships. Workforce Strategies Group LLC manages the MFG Sector Strategy, Georgia Mountains Works. Shelley Logan, Workforce Strategies Group LLC, shelley@workforcestrategiesgroup.com, 678-316-0792