October 2022 #MFGDay22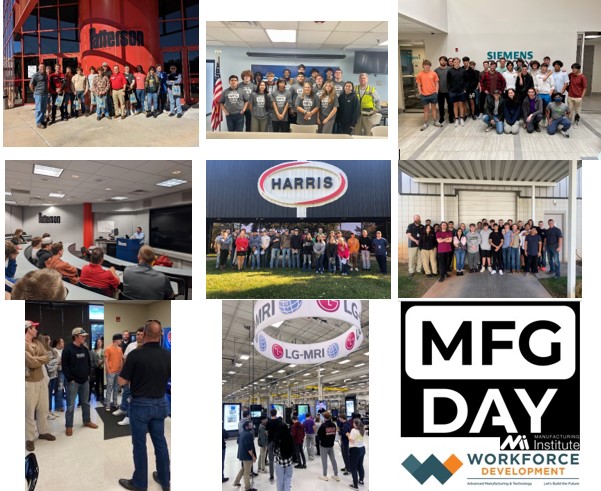 Over 700 High School Students Participate in Manufacturing Day 2022 #MFGDay22
WorkSource Georgia Mountains (WSGM) celebrated National Manufacturing Day on October 6, 2022, to raise awareness about advanced manufacturing careers and prepare the next generation workforce for the future. In the Georgia Mountains region, 23 manufacturing employers offered tours during the month to over 700 students in the local school systems including Dawson, Forsyth, Hall, Lumpkin, Stephens, Union, Gainesville City, and Mountain Education School Systems.
ABB Motors and Mechanical Inc., Flowery Branch, GA – Electric Motors
Advanced Digital Cable, Blairsville, GA – Wires and Cabels
*ASI Southeast Inc, Eastanollee, GA – Commercial Partitions
*Barbe America, Flowery Branch, GA – Antiadhesives
Fox Factory, Gainesville, GA – Performance Defining Systems
GAF Materials Corp., Cumming, GA – Roofing Materials
Georgia Poultry Laboratory Network, Gainesville, GA – Poultry Related Diagnostics
Haering Precision USA, Lavonia, GA – Automotive Precision Parts
*Harris Products Group, Gainesville, GA – Gas Apparatuses
Hawg Halters, Dahlonega, GA – Motorcycle Parts and Accessories
IMS Gear Georgia Inc., Gainesville, GA – Gears, Housing and Assemblies
Kubota Manufacturing of America Corp, Gainesville, GA – Tractors and RTV's
*LG-MRI, Alpharetta, GA – Outdoor Digital Displays
Mencom Corporation, Oakwood, GA – Electrical Connectors
*Patterson Pump, Toccoa, GA – Pumps
Performance Foodservice, Oakwood, GA – Food Distribution
*PPG Industries, Oakwood, GA – Latex Paint
*Siemens Automotive, Alpharetta, GA – Automotive
Solvay Specialty Polymers USA LLC, Alpharetta, GA – Polymers
Specialty Appliances, Cumming, GA – Orthodontic Laboratory
Steel Tech Industries LLC, Gainesville GA – Fabricated Structural Metal
StruXure Outdoors, Dahlonega, GA – Outdoor Products
Swagelok Georgia, Alpharetta, GA – Fluid Systems
Wahoo Docks, Dahlonega, GA – Aluminum Docks
ZF Gainesville LLC, Gainesville, GA – Automotive and Industrial
*Pictured.
Manufacturing is #1 in Industrial Employment in the area with an average salary of over $55,000/year. The region's high schools offer career pathways in Drafting & Design, Electrical, Logistics, Machine Operations, Manufacturing, Mechatronics, Metal Fabrication, Robotics, Technical Systems, Welding, and Engineering & Technology all of which can lead to careers in manufacturing.
Georgia Mountains Region:
MFG is #1 in Industry Employment (16.4%) (1Q22)
MFG $26.75 Average Hourly Wage (1Q22)
2.7% Unemployment (Aug 2022)
WSGM and Workforce Strategies Group, LLC, created the Manufacturing (MFG) Sector Strategy to collaborate with area stakeholders to align education and workforce training programs with the needs of manufacturing businesses. WSGM, under Georgia Mountains Regional Commission, administers the federal Workforce Innovation and Opportunity Act funds which encourages sector strategies and partnerships.
WorkSource Georgia Mountains Region 2 includes the following counties: Banks, Dawson, Franklin, Forsyth, Habersham, Hall, Hart, Lumpkin, Rabun, Stephens, Towns, Union, and White.